9 Best Pull Down Kitchen Faucets
A pull-down kitchen faucet is unquestionably something you should take into consideration if you're searching for a kitchen faucet that will enable you to complete your cooking and cleaning activities fast and effectively. You can easily reach every nook and corner in your sink or cooking area thanks to its retractable spout.
Although there are many different kitchen faucet alternatives available, performance should always be a priority. You want a faucet that not only looks fantastic but also performs properly over time.
In order to help you in finding the best pull down kitchen faucets available, we have put together this guide. We conducted the research so you don't have to, and we've created a list of the best-performing, premium faucets that are ensured to produce consistent outcomes. So go ahead, browse around, and choose with assurance!
9 Best Pull Down Kitchen Faucets Reviews
Moen Adler Spot Resist Pull Down Faucet
Because of its blend of fashion and utility, homeowners favour the Moen Adler kitchen faucet. From its fingerprint- and water-resistant spot-resistant stainless finish to its potent spray technology, which offers 50% more spray force than most other pulldown faucets, this kitchen faucet is made to simplify your life in the kitchen.
The retractable design of the Moen Adler pull down faucet is among its most remarkable features. The Reflex system, which offers effortless movement and smooth operation, is installed in the faucet.
The pulldown spray head is docked safely thanks to this technology as well. The pulldown hose on the faucet allows for flexible water delivery and effortlessly retracts itself.
Additionally, the Moen Adler kitchen faucet features two settings: an aerated stream for routine cleaning and a strong rinse for tougher cleaning. As a result, switching between chores in the kitchen is simple and you can always have the appropriate water flow.
The Moen Adler kitchen faucet is simple to install. It has a basic design that mounts on the countertop or sink, and a 3-hole installation requires the use of an optional deckplate. Additionally, the faucet complies with the requirements of the Americans with Disabilities Act, or ADA.
Delta Faucet Essa Brushed Nickel
The Delta Essa Kitchen Faucet is the ideal option for you if you want a kitchen faucet that won't leak and will last you for a very long time. This faucet's proprietary Diamond Seal Technology eliminates leak sites and extends its lifespan by double the industry average, which is based on ASME A112.18.1's 500,000 cycle requirement. This means that throughout the duration of the kitchen faucet's life, it will operate without leaking.
The magnetic docking of this faucet is another fantastic feature. The kitchen sprayer is kept firmly in place by a strong magnet with the help of the MagnaTite Docking, which stops it from drooping over time like other kitchen faucets. This greatly improves the experience of using the faucet.
The Delta Essa Kitchen Faucet is simple to use and install. Everything you need to install it in an 8-inch single-hole or 3-hole configuration is included in the box. To minimize the number of leak sites, the InnoFlex PEX supply lines are integrated into the faucet together with an optional deck plate for 3-hole installation.
The Delta Essa Kitchen Faucet is easy to keep clean. With just a touch of your finger, you can quickly and simply remove calcium and lime build-up from the Touch-Clean spray holes. Maintenance is simple because you won't need to wet the faucet or use any chemical cleansers.
Kraus KPF-1610SS Bolden Pull Down Kitchen Faucet
The heavy-duty open coil spring spout on this commercial-style faucet offers your kitchen an industrial appearance. The Bolden faucet is ideal for residential use despite its commercial style, and its small 18-inch height fits comfortably beneath most kitchen cabinets.
The pull-down sprayhead of the Bolden faucet, which enables a wide range of motion around the sink, is one of its most notable characteristics.
The dual-function sprayhead includes rubber nozzles that are simple to clean and offers both a forceful spray for heavy-duty rinsing and an aerated stream for general cleaning. The flexible spring sprayer is kept firmly in position by the docking arm with holder.
The Bolden faucet was created with both functionality and aesthetics in mind. It comes in a variety of finish options to match your kitchen's decor and has a wear-resistant finish that won't fade or tarnish with time. With no backsplash clearance needed, the innovative handle design enables a single handle to rotate 90 degrees forward, giving it the ideal fit for small areas.
Bolden faucets are made to last. It comes with a high-end ceramic cartridge for long-lasting, leak-free use. The Kraus Bolden Kitchen Faucet is a top option for any kitchen renovation thanks to its blend of design and utility.
KOHLER 596-VS Simplice Pull Down Kitchen Faucet
Anyone searching for a flexible, reliable, and simple-to-install kitchen faucet should choose the Kohler Simplice Kitchen Faucet. It enables you to handle water with one hand while extending your reach past the sink to do other kitchen activities thanks to its pull-down sprayer.
The spray head on this kitchen faucet offers three functions: ring, boost, and sweep spray. Sweep Spray has slanted nozzles that generate a strong blade to clean your dishes and sink, while Ring is perfect for general cleaning and Boost allows you to increase flow rate by 30%.
The Kohler Simplice Kitchen Faucet is remarkably simple to install. For simple water hook-ups, the hose and spray head are already attached and come with flexible supply connections. It also includes an escutcheon/deck plate and a 1- or 3-hole installation. The spray head is securely docked and glides into place thanks to the Docknetik safe docking mechanism, which is housed inside the spout.
It's built to last, this kitchen faucet. It contains ceramic disc valves that perform for a very long time in your kitchen and outlast industry norms. With the push of a button, the Boost technology also raises flow rate by 30%.
HGN Kitchen Faucet with Pull Down Sprayer
Anyone wishing to modernise their kitchen will find this Kitchen Faucet to be the ideal choice. This fashionable faucet has a brushed nickel finish that is long-lasting and simple to maintain. Cleaning up is a breeze thanks to the two function sprayer head's simple changeover between a stream setting for adding water and a spray mode for rinsing.
This faucet is the ideal height for any kitchen with an overall height of 16.2″ and a spout height of 4.9″. Additionally, you don't need a plumber to install it because mounting hardware and water hoses are supplied.
This faucet's simple cleaning design is one of its best qualities. In addition to resisting rust, corrosion, and tarnish, the multi-layer brushed nickel finish's life-shine brushed surface also helps keep fingerprints and water spots from detracting from its aesthetic appeal. So you can spend more time enjoying your kitchen and less time cleaning.
The temperature and water flow may be easily adjusted with the single handle control, and the high arc 360-degree swivel spout allows for full range washing access. Depending on your taste, the single handle can optionally be moved to the right or left.
Pfister F5314HNY 2-Handle Pull Down Kitchen Tap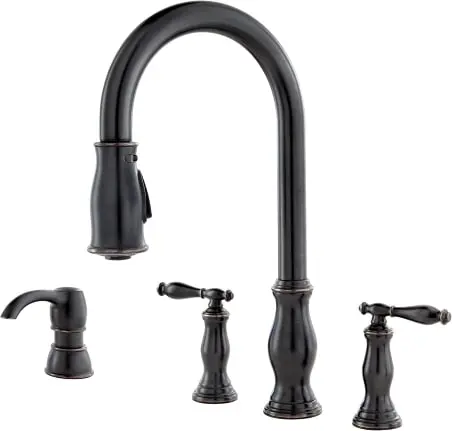 This conventional faucet comes with a pull-down sprayhead and may be installed in three or four holes. It also features a 1.8 gpm flow rate at 60 psi, making it ideal for daily use.
The Pfister Kitchen Faucet also includes the Pforever Seal, an innovative ceramic disc valve technology that guarantees no leaks. The Pfast connect technology simplifies installation and dramatically decreases installation time. A handy Quick Install Tool is also included to expedite the procedure even further.
For added convenience, the kitchen faucet has a complementing top-filling soap dispenser and an optional deckplate. The Pfister Kitchen Faucet also has a 360-degree swivel and a high arc spout for extra clearance and reach.
Its faucets are rated to meet or surpass CALGreen requirements, which helps to save at least 20% of water in the average home. Furthermore, all of its goods fulfill the California Energy Commission's standards (CEC).
WOWOW Pull Down Kitchen Faucet with Soap Dispenser
With a 16-inch tall kitchen faucet and a 17-OZ large capacity soap dispenser, the Wowo Kitchen Faucet offers excellent value for the money. With this set, your kitchen will have a consistent look and you may save time and money. The contemporary brushed nickel finish blends in with the majority of kitchen decor, is scratch-resistant, and anti-fingerprint.
Every drop of water that runs through the faucet is safe and healthy because it is composed of lead-free, eco-friendly 304 stainless steel. Hot and cold water flow volume can be easily controlled thanks to its one handle design. In order to suit your demands for filling, washing, and rinsing, it also features two water modes (Stream/Spray). Cleaning dead areas is simple thanks to the pull-down sprayer's 18-inch extension.
Additionally, the Wowo Kitchen Faucet includes a high-quality Ceramic Cartridge that endures for 500,000 times (CEC). This guarantees that your faucet will work and last very well. Switching is smoother and more difficult to get stuck thanks to the thickened rocker switch.
Delta Lenta Touch Pull Down Kitchen Faucet
For those looking for a dependable and effective kitchen faucet, the Delta Lenta Kitchen Faucet is a fantastic option. This faucet is made to last twice as long as the industry average thanks to its proprietary DIAMOND Seal Technology.
MagnaTite Docking is another function, which uses a strong magnet to keep the sprayer firmly docked. It's ShieldSpray Technology also offers a strong spray of water trapped under a shield that can cut through tough messes.
The Delta Lenta Kitchen Faucet's cutting-edge design makes cleanup simpler than ever. You can start and stop the flow of water using just your wrist or forearm thanks to its "touch anywhere" feature. You can avoid having dirty water on your hands by doing this.
Not to mention, the TempSense LED indicator light changes colour to reflect water temperature, so you can even monitor the temperature of the water from across the room.
BWE Kitchen Sink Faucet
The BWE Kitchen Faucet is a superb example of a kitchen faucet that combines design, ease of use, and functionality. This faucet is guaranteed to improve the appearance and functionality of any kitchen thanks to its three spray modes, multifunctional outlet water effect, and simple match design.
There are three spray settings available on this faucet's Multifunctional Outlet Water Effect: Stream, Spray, and Sweep. The Sweep mode is ideal for washing dishes with a strong water blade while the Spray mode is wonderful for filling water and giving a forceful rinse. This faucet will undoubtedly satisfy all of your washing needs with all of these features.
The BWE Kitchen Faucet has a really appealing appearance. The brushed nickel finish protects it from fingerprints and water marks, and the traditional design adds a timeless touch to your kitchen that will make it stand out.
To make installation easier, the faucet includes a 10-inch escutcheon as well as pre-installed pull-down and water line hoses.
The BWE Kitchen Faucet is extremely simple to use. The single handle design makes it simple to manage both water temperature and flow volume
Furthermore, the high arch 360-degree swivel nozzle provides a wide range of washing alternatives for your kitchen sink. Furthermore, you can quickly clean the faucet for regular usage with just a cloth.
Pfister Miri Kitchen Faucet
This kitchen faucet has both a stream and a spray mode, making it an excellent addition to any kitchen.
The Solo Tilt one-handed, top-filling soap pump included with the Miri Kitchen Faucet makes it simple to dispense soap with just one hand.
It also has a Top Pfit function that allows for simple above-the-sink kitchen faucet installation using the provided faucet installer tool. It also has a Tite Seal, which eliminates the need for putty or silicone during installation.
The Miri kitchen faucet comes with an optional deck plate and a single post mounting ring that can accommodate installations with one, two, three, or four holes. Additionally, 36-inch supply cables with 3/8-inch female connections are included. The nozzles can be cleaned with just one finger thanks to the spot protection finish, which resists watermarks.
The 8 GPM flow rate and 360-degree rotation of the Miri kitchen faucet make it simple to use. Additionally, it has a kitchen faucet with a single handle and a forward-only handle to reduce the possibility of running into nearby backsplashes.
Final Thoughts
The best pulldown kitchen faucets provide an excellent balance of design, use, and robustness. Pulldown faucets are a popular option for contemporary kitchens because they have the ability to extend the faucet head into the sink for easy access.
Every kitchen may use a pulldown faucet, which come in both contemporary and traditional styles. When selecting the ideal pulldown kitchen faucet for your home, take into account elements like the size of your sink, the quantity of holes in your countertop, and your own tastes in terms of appearance.