9 Best Touchless Kitchen Faucets
Touchless faucets are a new, cutting-edge kitchen faucet that is reshaping the business.
The advantages of using the best touchless kitchen faucets are numerous, ranging from quick temperature or pressure adjustments to lowering the risk of bacteria growth. Hands-free kitchen faucets are becoming increasingly popular since they save time by allowing you to switch them on and off the faucet without having to touch it directly.
Kitchen faucets have become an important part of our everyday lives, whether at home or in a business kitchen. That is why it is critical to select the best touchless kitchen faucet for your demands and home décor.
Read on for more information about touchless faucets, and to know which one might be best for your kitchen.
Table of Contents
Are Touchless Faucets Just a Gimmick?
Maybe you've heard that touchless technology is the future of kitchen faucets, or maybe you've noticed that different faucet brands are starting to incorporate this technology.
Touchless sink faucets are no gimmick. Luckily, there are a lot of things to love when it comes to choosing a touchless kitchen faucet, so there's no need to worry if they seem foreign to you. These hands-free faucets are easy to use and can transform your kitchen into ultimate modern chicness.
Some people prefer the convenience of a touchless kitchen faucet, while others like its hygienic use.
A touchless kitchen faucet can be used for rinsing vegetables or draining pasta. The best touchless kitchen faucets can make cooking easier and more enjoyable.
9 Best Touchless Kitchen Faucets
1. Moen Arbor Touchless Kitchen Faucet
A touchless kitchen faucet may sound like a little thing. But, that's not the case. A touchless kitchen faucet has made a huge difference to the way we've been cooking (and washing our hands!) for years.
Moen is the most famous brand to make the touchless faucet. Moen's Arbor series is specially designed for the touchless use of the faucet.
The best thing about Moen Arbor is that it is fingerprint-free, sprays great, is easy to maneuver into the sink, fast reacting sensor, and has the perfect height. You can operate it easily even your both hands are busy.
Sleek clean lines on its body give an eye-catching look. The chrome finish gives a versatile look to it. You get 3 more finishes to choose from matte black, oil-rubbed bronze, and spot-resist steel.
Its sensor is placed at the base of the faucet. So, it becomes easy to turn on or off the water when you have soapy or dirty hands. In our testing, we were happy with its quality and performance. It has a sensor on the side of the body so, the chances of sensor activation accidentally are almost zero.
Its pull down spray hose is equipped with Moen's patented Reflex system. It gives smooth movement and secure docking. Its spray hose provides great functionality.
Moen Arbor hands-free faucet will be definitely a beautiful addition to your kitchen sink. It will exceed your expectations with its performance. Its parts fitting remains tight over years. Its power boost feature is really amazing.
2. Kraus Bolden Touchless Sensor Automatic faucet
Kraus Bolden touchless faucet is a classy faucet that gives an industrial feel to the kitchen. It is a gorgeous faucet that has perfect look with amazing performance. Although, it is slightly pricy than Moen Arbor.
Kraus Bolden sensor automatic faucet goes well with the modern farmhouse interior. You get 15 different finishes to choose from.
It is designed for the busy kitchen. It cuts down germ transfer from hand to handle by eliminating the need of touching the faucet to turn it on or off the water.
With Kraus Bolden you get what you pay for. The Fit, finish, and quality of the faucet is excellent. You won't get anything cheap in this faucet. If you have 3 hole sink, you need to buy a deck plate separately.
Its installation is easy and quick. Its sensor is accessible to kids and elder people. Kraus Bolden is built with 100% lead-free material that makes it safe to drink water directly from the kitchen pre rinse tap. This kitchen touchless faucet has an 18-inches height that is optimized for residential use.
During cleaning dishes, press the button on the spray head to switch between the aerated stream or powerful spray.
Kraus hands-free sink faucet provides 180-degree swivel for a full range of motion into the sink. If you need a faucet that looks great and works great, you should definitely pick Kraus Bolden without a second thought.
3. Owofan Touchless Kitchen Faucet With LED Light
Owofan touchless kitchen faucet is ideal for those who want some versatility in the kitchen within budget.
It has an easy pull-down sprayer. It can be installed in either a one-hole or three-hole sink. It will become an integral part of your daily kitchen routine. Its auto shut-off feature saves water and does good for the earth.
This motionsensor faucet protects your family from accidental burning. It has an LED indicator that shows the temperature of water by color. Blue color represents cold, green represents warm, and red means hot.
This faucet comes in brushed nickel and brushed nickel with black, more dramatic matte black, and two more modern-style finishes featuring a stunning look.
Owofan has a multifunctional spray head. Use stream mode to fill pots quickly. When want to rinse dishes, switch to spray mode. A good thing about the faucet is its 23.6 inches long spray hose that is flexible. It makes everyday kitchen chores easy.
Its built-in quick-connect technology saves you time in installation. It is a very sturdy faucet. Its high profile makes it convenient to feel pots and clean big dishes.
Owofan hands-free faucet surely gives a change to the kitchen sink which you want to give. For the Owofan faucet, you need to buy batteries separately.
4. Moen Sleek Touchless Sink Faucet
There is something about Moen sleek motion sense faucet that adds a little pop of luxury to the kitchen. With its sleek and modern look, this modern pull-down touchless faucet is about to pull together style and convenience in your kitchen.
Moen sleek has a beautiful modern design, a powerful water flow spray, an easy temperature control setting, and easy installation. But its high price keeps it out of people's reach.
Moen touchless faucets bring uniquely modern features into the sink. Its modern look is available in 5 finishes that feature a sleek aesthetic look. While we love its spot-resist stainless steel, you can go with other options as per your kitchen interior.
Customers love its sleekness and functions. The sensors are accurate and work perfectly. Water pressure is firm and steady. To adjust the pressure, you can set the handle in a particular position. Also, set the temperature with the handle.
Moen gives a life long warranty to fix any fault of the faucet. Its flexible design works great with single- or three-hole sinks. It has built in water supply lines. Easy to assemble faucet with simple directions.
The location of the sensor is smartly designed for easy, quick, and safe use. Overall it is a great quality product but at a high price.
5. Kohler Malleco Motionsense Kitchen Faucet
Kohler Malleco has next-level build quality. Kohler has a wide range of faucets for kitchen sinks. Kohler Malleco is an excellent choice for the hands-free kitchen faucet because of its touchless feature and design.
The look and feel of the Kohler Malleco faucet are really what makes it worth the splurge. On top of being excellent, its touchless control is awesome.
Either you can choose its vibrant stainless finish or matte black. An additional soap dispenser gives an extravagant look. It looks like a well-made faucet.
Clean and simple installation is the good thing about it. Installation instructions are clear and easy to understand. Its sensor works smoothly and can easily be turned on or off. Little kids can easily reach its sensor.
The magnet in the spray head works great and is secure. From washing dishes to cleaning off vegetables and fruits its touchless technology is incredibly helpful. This faucet allows 3 different sprays – stream, sweep, and boost modes.
The only thing that is not good about Kohler Malleco its hose length is not enough and just barely reaches to edge of the sink.
6. Arrisea Modern Touchless Kitchen Faucet
Its touchless feature only works when the handle is on mode. It makes sense and saves water by not accidentally turning it on. The sprayer is great and water comes out from it with a good amount of pressure.
It is designed as a commercial faucet which gives a high-end appearance look to it. The touchless option is ideal to avoid touching the handle with dirty hands.
The brushed nickel finish is beautiful and is a quick and easy wipe for splatters. It works on 4AA batteries to enable its sensor. Brushed gold and matte black are other options available.
One of the most crucial features of this faucet is the ability to pull down the spray head into the sink to clean dishes and keep the sink clean. Arrisea modern touchless kitchen faucet smartly moves its spray head.
Either you may use its manual mode or infrared sensor. If the battery is about to die, its low battery indicator will be turned on.
Its sensor has 0.5 seconds of sensing time and works from 5 inches range. It has 3 minutes of shutdown time.
The good thing is it has multiple leakproof designs. Its multi-layer rubber gasket sealing technology stops leaks. A few customers have mentioned in their review that they faced pressure drops after a few months of installation and water starts trickling.
7. Aimadi Flow Motion Activated Pull Down Kitchen Faucet
Aimadi touchless kitchen faucet is for those who don't want to break the bank for a hands-free faucet. With Aimadi touchless faucet, you can expect good performance.
Aimadi faucet has an impressively quick response time which is incredibly fast from other cheap touchless faucets. Once you turn on the water flow, you can either stop the flow by pulling the spray head or waving your hand in front of the sensor.
To get the full range of cleaning, it comes with a 360-degree rotating spray head. The rotating spray head is more flexible to use.
It gets power from 4 AA dry batteries. If batteries are out of power, you can use them in manual mode through the handle.
If you remove the battery box, Aimadi touchless faucet will be converted into a normal faucet. Moreover, it has a LED indicator to show the battery status.
Without a plumber or any specialized tool, it can be installed easily. Its spray head is self-retracting that holds it in place with the help of a magnet. Aimadi hands-free faucet has a solid brass body. Its stainless steel finish makes the faucet sturdy and easy to clean.
Its design is a little bit simple and ordinary. So, if you're looking for something unique and a bit more stylish, this is not for you.
8. Gimli Smart Touchless Kitchen Faucet
Gimli smart faucet is a popular and affordable choice when it comes to a touchless faucet. It has a classic pull-down hose design.
Gimli faucet offers unique performance with its dual spray head: aerated stream for quick filling and powerful spray to clean dishes.
Its pull-down hose has a reflex self-retracting hose that is smooth in movement. When you leave the spray hose, it automatically retracts from any position in the sink to its safe place.
Gimli motionsense faucet has 0.5 second quick response time for the sensor. It will shut down the water after 3 minutes if it doesn't sense any activity. For the sensor, you need to buy batteries separately.
Gimli touchless kitchen faucet has 5 attractive finishes. This Gimil kitchen faucet has a transitional design that is good for modern and traditional kitchen design. It doesn't take time the installation. It comes with a lifetime warranty and its after sale service is good.
9. Forious Battery Operated Touchless Faucet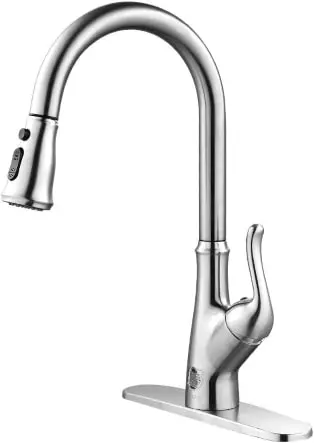 When it comes to the best touchless kitchen faucets that have a low price but good features, Forious faucet doesn't disappoint. This hands-free faucet performs well in all kitchens.
It offers a modern design with functionality. Its infrared sensor delivers good performance. If you want to turn off its sensor to use it in manual mode, turn its knob on the control box. It will switch to touchless or manual mode.
When you pull its spray head, the water will automatically turn on.
Its 2 spray modes make it very practical to use in the kitchen. Use stream mode for filling water and turn it into spray mode to rinse dishes.
If you want to install it yourself, you can do it. It is built with a DIY installation method. Its control box is waterproof. Its quick connect hoses make installation easy. The spray head rotates 360 degrees. Its CPUC certificate ensures that the faucet is durable and rust-free.
You don't have any option for finish. It has only a single brushed nickel finish. Also, its finish quality is not as impressive as other faucets on the list.
The 7 Best Reasons to Install A Touch-Free Faucet in Your Kitchen
There are many reasons to install a touch-free faucet in your kitchen. Here are seven of the best reasons:
Touch-free faucets are more hygienic – You don't have to worry about bacteria and dirt buildup on the faucet handle since you never have to actually touch it to control water.
They're more convenient and easier to use – You can turn the water on and off without having to touch the faucet handle, which means your hands are free for other tasks.
They can save you money – Touch-free faucets are often more energy-efficient than traditional faucets since they don't waste water when they're not being used.
They're easier to clean – Since you don't have to touch the faucet handle, there's no need to worry about cleaning it constantly.
They're more stylish – Touch-free kitchen faucets often have a more modern look than traditional kitchen faucets, which gives an updated look to the kitchen sink area.
They can help you save water – Many touch-free faucets are equipped with sensors that automatically shut off the water when it's not being used, which can help reduce water usage.
They can make your life easier – If you have arthritis or another condition that makes it difficult to turn a traditional faucet handle, a touch-free faucet can be a godsend.
Touchless Kitchen Faucets Buying Guide
There are many different types of hands-free kitchen faucets out there – so how do you know which one is right for your home? People want the best touchless kitchen faucets for their homes. Everyone has their own priorities, so these are some common things you should check before buying a touchless sink faucet.
Size
The first thing to check is its size. A touchless faucet won't be too small or too big for the sink. Size plays an important role to avoid splashing on the countertop.
The faucet shouldn't interfere with cabinets, windows, or anything else on the countertop. Depending on your kitchen sink space, you need to pick the right size.
Features
Not all faucets have the same features. Some faucets are built with smart technologies to give reliable performance. In our list, all faucets have touchless features but some faucets also come with a voice-controlled feature.
Some have dual sensors that give a better range of detecting hands. Voice activation is a good feature but you need to spend some extra money for it. This feature is only good for busy people in the kitchen.
Docking Mechanism
The docking mechanism of the hands-free kitchen faucet should work smoothly. When the faucet is not in use, its spray head should be in the right place. It will happen if the faucet would have a good docking mechanism.
Check which mechanism is manufacturer is using. Some use magnet systems and some use counter weight as docking mechanisms. The magnet system is more powerful and trustworthy.
Style
The style of the faucet depends on your choice. You have to pick a faucet for your kitchen interior. Match modern style with modern interior and traditional style with traditional interior.
Also, pay attention to other kitchen appliances. What finishes do they have and try to match their finish?
Spray Options
The reason why people use the best touchless kitchen faucets is that they are comfortable to use. More spray options are always great. As a result, different spray options save time and water.
Most touchless kitchen sink faucets are quipped with stream and spray options. Some have pause mode also. Different spray modes give different water flow speeds. You can fill pots with one spray mode and clean dishes with the other.
Warranty
Warranty is another aspect you should consider while buying a motionsense kitchen faucet. You should check the warranty's duration and coverage.
Different brands offer different warranty periods. A long warranty is a sign of quality. The warranty period should be long.
Some faucet brands have limited lifetime warranties. Their warranty covers parts and finishes. Some brands only offer a warranty to the first owner. Don't use hard cleaner to clean the faucet, it will void the warranty.
How Do Touchless Faucets Work?
Touchless faucets are designed to operate without the need for physical contact. Touchless faucets use sensors to automatically turn the water on and off.
In most touchless faucets, sensors are usually located near the base of the faucet, and they detect movement of your hand when your hand or an object is placed near them. When the sensors are triggered, the faucet will turn on or off accordingly.
There are different styles of touchless faucets in the market but they work on the same principle. They all use sensors. Some may have a single sensor or some may have more than one but the basic operation is the same.
How Can I Choose a Touchless Kitchen Faucet?
If you're interested in buying a touchless faucet, there are a few things you should keep in mind.
First, you'll need to make sure that the faucet is compatible with your kitchen sink. Most touchless faucets are designed to be used with standard sinks, but there are some models that are made for specific types of sinks. So. make sure there is no issue with the installation of a hands-free faucet in your sink.
Second, decide what type of sensor you want in the faucet. There are two main types of sensors used in touchless kitchen faucets: infrared and ultrasonic. Infrared sensors detect objects by sensing the heat that they emit, while ultrasonic sensors use sound waves to detect objects. Both sensors work perfectly.
Third, you'll need to decide what type of power source you want. Touchless faucets can be powered by batteries, AC adapters, or hardwired into your home's electrical system. Each option has its own pros and cons, so you'll need to decide which one is right for you.
Fourth, you'll need to decide what type of finish you want. Touchless faucets are available in a variety of finishes. You need to pick the right finish that matches your kitchen interior.
Are Touchless Faucets More Hygienic?
Touchless faucets are a type of faucet that allows you to turn the water on and off without having to physically touch the faucet itself. It makes them more hygienic than normal faucets.
They usually have a sensor that detects your hand near the faucet and automatically turns the water on or off accordingly. This can be a great way to reduce the spread of germs since you don't have to actually touch the faucet to use it.
The amount of water dispensed by the faucet can be controlled by the user, and some touchless faucets also have features like temperature control and automatic shut-off.
Should I Get a Touchless Kitchen Faucet?
If you are someone who likes to have the latest technology in your home, then a touchless kitchen faucet may be a great option for you.
These types of faucets are becoming increasingly popular as they offer a number of benefits over traditional faucets. For example, touchless faucets can help reduce the spread of bacteria, as there is no need to touch the faucet handle to turn the water on or off. They can also be more convenient to use, as you don't need to turn a handle each time you want to use the water.
Another thing to consider is your budget. Touchless faucets can be more expensive than traditional faucets, so you'll want to make sure you're comfortable with the price before making a purchase. However, keep in mind that touchless faucets can also help save water, as they will automatically shut off when you're done using them. This can save you money in the long run on your water bill.
Lastly, think about how often your kitchen is used. If it's a busy room in your home, then a touchless faucet may be a good option to help reduce the spread of bacteria. However, if your kitchen isn't used very often, then a traditional faucet may be just fine.
How To Change Battery In a Touchless Faucet?
A touchless faucet won't work without batteries. Some faucets have an LED indicator that starts blinking when the battery is about to die. So, you can replace batteries before they completely drain out.
Changing batteries in a touchless faucet is a quick and easy task.
First, find the battery box. Most probably it would be under the sink cabinet. Once you find the box, open it. There would be a knob or button, turn the knob or push the button to open it. Some battery boxes may have screws, in this condition use a screwdriver.
Open the lid of the battery box. Now remove all batteries from the box. Get the same power batteries from any nearby store. Now put new batteries into the box and arrange them into the right polarity.
What Touchless Faucet Brand Do Plumbers Recommend?
There are lots of reliable faucet brands that have touchless faucets. But which is one good and recommended by most plumbers?
Moen is the top choice of most plumbers. Its touchless faucets are the soul of the kitchen sinks. They are easy to use, durable, and affordable. It has a wide range of models for the touchless series. Moen has experience of more than 50+ years.
Currently, Moen is one of the most trusted faucet brands. Its touchless faucets range has a good reputation among customers.
FAQ About Best Touchless Kitchen Faucets
Does Delta Make a Touchless Kitchen Faucet?
Delta is a trustworthy brand. Customers love its faucets. Delta has faucets that are built with sensors but they are not touchless. Delta has touch-activated faucets. Its faucets work when you touch any part of the faucet. Its faucets don't detect any hand waves, they detect hand touch.
How To Adjust Water Temperature on a Touchless Faucet?
People think adjusting the temperature on a touchless faucet is difficult but it is not true. Every touchless faucet has a handle also. You just need to use this handle to change the temperature. Move the handle forward or backward to adjust the temperature.
How Do Automatic Water Faucets Know When To Release Water and Switch Off The Water?
A sensor is responsible for water movement in the automatic faucet. The sensor detects hand movement and sends a signal to the control box to turn on the water. An automatic faucet also has an auto shut-off feature. The sensor turns off the water after a time limit. In most faucets, this time limit is 3-4 minutes.
Do Automatic Faucets Save Water?
Saving water is always a good thing. Automatic faucets shut off water flow automatically. It reduces water consumption and saves water.
Do All Touchless Faucets Need Batteries?
All touchless kitchen faucets work on the sensor. Sensors need some power to work. Some touchless faucet brands use batteries to give power to the sensor. On the other side, some brands use AC power adapters.