Are Blanco Faucets Good To Buy?
Are you on the lookout to install a new kitchen faucet? Want to know, are Blanco faucets good to buy? You've come to the right place.
Blanco is a well-known old faucet brand that adds a sophisticated touch to any kitchen interior.
Whether you are a home chef or a professional chef, you always need a kitchen faucet that does all washing tasks quickly. Blanco kitchen faucets are a blessing in disguise. Blanco faucets are a true example of dependability and outstanding quality. They are slightly more expensive than other faucets, so if the price is not an issue for you, Blanco faucets are a good choice for your kitchen sink.
Blanco Faucet Brand History
Blanco is a German brand that was founded in 1925. Blanco didn't start with making taps. Initially, it made other products, then later it made faucets and sinks. But Blanco only makes faucets for the kitchen, not for the bathroom.
Blanco is known for striving for perfection. Blanco offers faucets in the premium range category so if you are looking for a cheap kitchen faucet then Blanco is not for you. If you want a budget faucet, go with the Kraus faucet brand.
Blanco takes inspiration to design a faucet from the surrounding environment.
Blanco's main focus is to give a durable, stylish, and functional fixture for the kitchen. While designing the faucet, Blanco gives attention to every small detail so its faucets fit with any kitchen interior.
Blanco offers a wide range of features in its faucets. You get sensors to use the faucet without hand. From traditional to contemporary look, every design is available for Blanco kitchen tap. You get a wide range of taps so you can choose a tap with the perfect design and latest features.
Blanco uses high-quality brass or stainless-steel material, so the faucet works longer without any rust. Its durable faucets withstand heavy usage in the kitchen. If you can spend money Blanco faucets are a great choice for you.
Types of Blanco Faucets
Each Blanco kitchen fixture offers a unique experience. All Blanco faucets are single-handle. Blanco offers variations in its faucet design so you get a wide range of faucets. Whether you have a traditional interior or a contemporary interior, Blanco has every type to match your kitchen interior.
Commercial Style Faucet
For commercial use, Blanco has many options. Their flexible hose is easy to use in a busy kitchen. In its commercial design, you will get multiple spray modes, a spring hose, powerful water spray, a rust-free finish, a long warranty, and more.
Pull Down Faucet
For any kitchen, a pull-down faucet is a good choice. Most of the Blanco faucets are pull-down. Blanco pull-down faucets ensure quality performance in the kitchen.
Its hose length is good enough so you can pull the hose into the sink. It covers the whole sink with the hose so cleaning the sink becomes easy after washing dishes. There is no issue with the docking. Its powerful magnetic system keeps the spray head in a safe position.
Pull Out Faucets
Blanco has a limited number of pull-out faucets. Blanco pull-out faucet offers professional functionality with a convenient design. It comes with advanced features. Different spray modes enhance its functionality.
Are Blanco Faucets Good Choice?
Blanco is a well-known faucet brand that makes different types of kitchen faucets. The quality of the Blanco faucet is very good. Most of its models are extremely good.
The quality of the Blanco faucet is the secret of its popularity and success. Its faucets are the perfect combination of German design and American quality. You get faucets with an elegant look with comfortable use. Blanco kitchen faucets make everyday cleaning tasks in the kitchen easy.
But as we said earlier, its faucets are higher prices than other brands. So, they are not affordable by not all people. Once you use a Blanco faucet, you will realize that its durable body and excellent performance in any situation are worth spending the money on.
Blanco doesn't have limitations for the faucet model. You will get the perfect faucet to enhance the kitchen sink area.
How To Select a Blanco Faucet For Your Kitchen?
Banco faucets are designed with high-performance functionality and a durable body. What things you should check in the Blanco faucet when you buy it? Here is the list.
Size
Size becomes a major factor to consider when you buy a Blanco faucet. Size is measured vertically. Blanco faucets are designed to fit with most kitchen sinks. So, their height is generally average.
You should also check the spout height and rich. The spout should reach the sink easily. When you check the faucet size, you get a rough idea of how much space you need to install the Blanco faucet. Spout height shows how much clearance, you get under the spray head to clean dishes or fill pots.
Ease of Use
All Blanco faucets are single handle so their ease of use is superb. The single-handle design is easy to use. People find single-handle design straightforward and intuitive.
Blanco's handle moves forward so if there is no space between the faucet and the wall, it is not an issue. People never find any difficult to control the water temperature and flow of water through a single handle.
Flow Rate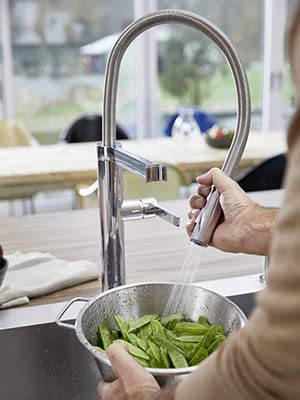 Most Blanco kitchen faucets have a 1.8 GPM water flow rate. Despite high water pressure, its WaterSense technology saves water. So, don't worry about the water bill.
A high flow rate helps to do washing and filling work quickly. Some Blanco faucets also come with a 1.5 GPM water flow rate. If you are going to use the Blanco fixture in the commercial kitchen, choose its 2.2 GPM flow rate.
Faucet Life
When you are investing huge money in the faucet, you should make sure that next 15-20 years, you don't need to change the faucet.
Blanco faucets come with a long life. The main reason for their long life is their solid brass body. Also, some Blanco faucets use stainless steel. Both materials are good for kitchen fixtures because they are rust-free.
Blanco faucets use a spot-resistant finish so they are safe from fingerprints and watermarks. Spray nozzles in the faucet can be cleaned by hand.
Maintenance
Proper maintenance increases the life of the faucet. On the Blanco website, you can read how to maintain faucets properly. Blanco uses spot-resistant finishes, so you just need to clean the faucet with a wet cloth.
Don't use any chemical cleaner on the faucet body, it will damage the finish of the faucet. To remove any water spots use hot water and lemon juice mixture.
Installation
After buying a faucet, installation is the next step. If you don't know the installation, you need to call a plumber. But don't worry, with the Blanco faucet, you can do the installation yourself.
All Blanco faucets are deck or top mount and need a single hole for installation. Most sinks come with a single hole. So, you don't need to do any extra holes. It makes installation easier. The twist and lock design of the Blanco faucet doesn't need any tool for installation.
Comparison of Blanco Faucet Brand With Other Brands
| Brand | Price Range | Styles Available | Finishes Available | Durability |
| --- | --- | --- | --- | --- |
| Blanco | High-end | Modern/Traditional | Chrome, Stainless Steel, Matte Black | High |
| Delta | Budget | Modern/Traditional | Chrome, Stainless Steel, Matte Black, Bronze | Good |
| Moen | Mid-Range | Modern/Traditional | Chrome, Stainless Steel, Matte Black, Bronze | Good |
| Kohler | High-End | Modern/Traditional | Chrome, Stainless Steel, Matte Black, Bronze, and Other Specialty Finishes | High |
| Kraus | Mid-Range | Modern/Contemporary | Chrome, Stainless Steel, Matte Black, Bronze | Good |
Advantages of Blanco Faucet
When people think of upgrading their kitchen appliances, they look for modern and efficient appliances. With time, faucet design and features changed a lot, so what makes Blanco faucets different from other faucets? Here is the list of advantages of the Blanco faucet.
A premium cartridge ensures the smooth use of the faucet. The cartridge is responsible for leak-free operation. Blanco has a premium cartridge that is long-lasting and makes sure the faucet shouldn't leak for years.
Its soft rubber nozzles provide soft comfort when you clean it by hand.
Blanco kitchen tap has a cutting-edge design so it upgrades the overall look of the sink.
There is no lack of features and technologies in the Blanco faucet.
Due to its long experience, Blanco offers quality faucets. Blanco has created the first-ever spot-resistant faucet.
Blanco not only makes kitchen faucets but also makes sinks for the kitchen. Its sink quality is the same as the kitchen faucet.
Blanco has specialized in making faucets for high-end kitchens.
Blanco offers a convenient handle, stylish look, multiple spray modes, long-lasting body, and more.
There is no limitation of models in the Blanco so you get a faucet for a modern to vintage style interior.
On online platforms like Amazon, Blanco has an above 4-star rating for its faucets.
Disadvantages of Blanco Faucet
The biggest disadvantage is its price. The price of Blanco faucets is high so everyone can't buy them. You need to spend a huge amount if you want to install a Blanco faucet in your kitchen.
For pull-out design, Blanco has a limited number of faucets.
What Blanco is offering in its starting range faucet, you get the same features in other faucets at a lower price.
What About Blanco Warranty and Customer Service?
Like other kitchen tap brands, Blanco also offers a limited lifetime warranty on its faucets. The customer service of Blanco is good. When you contact them through phone or email, they quickly respond.
When we talked with Blanco users, they were satisfied with the Blanco customer service. They have highly trained employees who solve your query quickly. In the warranty period, if you find any defect in the faucet due to craftsmanship or material, Blanco sends a replacement part of the faucet.
How To Maintain Blanco Faucet Finish?
Everyone wants good good-looking faucet in their kitchen. For this, they need to clean the faucet regularly. To maintain the Blanco faucet, you need to do a regular wipe-off with a soft cotton cloth.
Maintenance of the Blanco faucet is easy. You can rub mineral deposits on its nozzle with your fingers. Don't use any abrasive cleaning chemicals on it. Use hot water to clean its body. Also, you can use vinegar to remove mineral build-ups from it.
How Much Does Blanco Kitchen Faucets Cost?
Blanco faucet's price starts from $200. Price increases according to features. At the $200 price, you get an entry-level faucet that just comes with a pull-down spray head. To get touchless features, you need to pay more than $350.
Blanco faucet's price is truly justified due to its commercial-grade performance. You get a good warranty on the faucet. For budget users, Blanco doesn't have any faucets. Due to the high price of the faucet, Blanco faucets are not affordable for everyone.
Final Words
Blanco faucets are designed with the latest features so they fit all types of sinks. You get different styles and finishes for Blanco. Blanco always believes in offering the latest technologies in its faucets. Blanco has luxurious faucets for home and commercial use. Blanco has a wide range of pull-down faucets but a limited collection of pull-out faucets. Now you know are Blanco faucets good or not for you.
Frequently Asked Questions
Is Blanco Made In Germany?
Blanco is a Germany-based company. Its faucets are designed and manufactured in Germany and then sent all over the world. You can see the reflection of German expertise in its faucets.
Where Is The Model Number on a Blanco Faucet?
Like other brands, Blanco has also unique serial numbers for its faucets. Most Blanco faucet has the model number on the backside of the spout. When you need to replace any part in the Blanco faucet, you need its model number.
How Do You Remove The Flow Restrictor on a Blanco Faucet?
Flow restrictor makes water flow smoothly and slowly. In the USA flow restrictor is compulsory so Blanco uses a flow restrictor in its faucet. To remove the flow restrictor, you can use your fingers. Hold the restrictor and pull it outside. If it is stuck then use a plier to pull it.
Can You Use Bleach on a Blanco Faucet?
People use bleach to clean the body of the faucet but it is not a good idea. Bleach cleaned stains from the faucet but it also damaged the body. So, avoid bleach white vinegar, and hot water to clean the faucet.