Are Expensive Faucets Worth It?
Without a doubt, a kitchen faucet is an important appliance in your kitchen. You rely on it for cooking and washing. You use it often in a day from washing to filling. So, are expensive faucets worth it? Should you spend a high amount of money on the faucet?
The sink area has always been a hub of the kitchen. Today's faucets are more revolutionized. Now they are more convenient to use due to their features such as touchless, voice-activated, and touch-activated. These features increase the cost of the faucet but also revolutionized cooking and cleaning in the kitchen. Let's see whether you should buy an expensive faucet or not.
What Is an Expensive Faucet?
A faucet is called expensive when it costs lots of money. But why the cost of an expensive faucet is higher than a regular faucet?
Because it is made of high-quality materials that make the faucet body durable. Its advanced features make it more functional than a standard faucet. Blanco, and Grohe, are some brands that make expensive faucets.
Expensive kitchen fixtures are found in different styles and designs. So, you can easily pick the right one for your needs. These fixtures save time and water in the kitchen.
Types of Expensive Kitchen Faucets
Pull-down Faucet
Pull-down faucets are found in most kitchens. Its spray head is fixed into the downward position. So, when you pull its head, it goes towards the sink. Its single-handle design allows you to adjust the temperature and water flow with one hand.
This type of faucet is popular for its versatility. It makes it easier to rinse dishes into the sink. But it is not useful to fill pots on the countertop. It will cover hard to reach the area of the sink.
Pull-out Faucet
Pull-out faucet's functionality is similar to pull-down faucets but instead of going downwards, its spray head comes towards you. Its spray head can be extended to a certain degree but can't give you a free-range hose. It is good if you have a small sink in the house.
Two Handle Faucet
If want a separate handle for water flow and temperature control, two-handle faucets are the right choice. It comes in the traditional style. It can be installed in a single or three-hole sink. It gives a unique touch to the kitchen.
Motion sensor Faucet
Want a faucet that can be used without touching the faucet handle? A motion sensor faucet uses motion detection technology to turn on water flow. It will also close the water flow if it doesn't detect any hand movement. A motion-sensing faucet is one of the most convenient faucets.
Advanced Technologies In Expensive Kitchen Faucets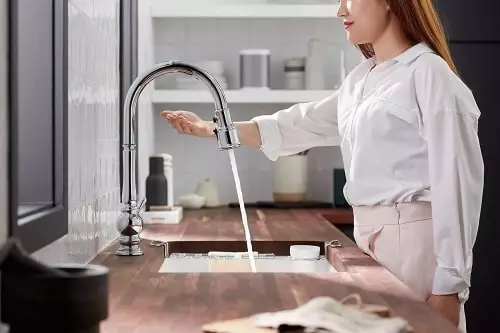 Touchless
Expensive kitchen faucets come up with the latest technologies. A touchless faucet does away with cumbersome handles to turn on or off. It eliminates the use of hands while washing dishes or filling pots.
During cooking, our hands are dirty or messy so a simple wave of the hand in front of the faucet turns on the water. So, without making the faucet dirty with your hand, you can get water from it. You can get water without twisting or pulling the handle.
Touch-Activated
A touch-activated faucet contains a sensor similar to a touchless faucet but its working is a little bit different. Its sensor doesn't react when you wave a hand in front of them. Instead of waving your hand, you need to touch any part of the faucet to activate the water.
Luckily, both touchless and touch-activated faucets have an auto shut-off feature that turns off water automatically and prevents the wastage of water.
Voice-Activated
This is one of the coolest features of the expensive kitchen taps. A voice-activated faucet can be controlled from any corner of the sink. It works on your voice command.
You can set voice commands as per your need. You can ask the faucet to release 100 ml of water. Place a big pot under the faucet and start doing your other work. When the pot is about to fill, give it voice instructions to stop the water flow.
Unlike touchless and touch-activated faucets, there is little range of models for voice-activated faucets. They are much expensive so not all people can afford them. If you need a lavish thing in the kitchen, you can go with this faucet.
In-Built Water Filtration System
If you pay more for a faucet, you get more features. The in-built water filtration system is one of them. Some brands have introduced water filtration systems inside the faucet. So, you can get clean water directly from the faucet without adding any extra filter.
This filtration system works fast. You don't need to wait for clean water. Just turn on the handle and clean water directly into the glass. It provides clean and fresh water for your family without any contaminants.
What To Look For When Buying an Expensive Kitchen Faucet?
Handle Type
Choosing the right handle is important when you want a reliable faucet. You can choose a single-handle or double-handle faucet as per your need. A single-handle faucet adds an updated appearance to the kitchen.
Handle design should be easy to use. So, you can easily control the hot and cold water flow for optimal convenience.
Spout Height
A spout height is important to consider when you think to buy a kitchen tap. High-arc faucets are ideal to fill big pots. You can clean dishes under it easily. It enhanced the functionality of the faucet.
If you have a window or cabinet above the sink, you should measure the spout height. If you have a restriction on the faucet height, opt for a low arc faucet.
Sprayer
A faucet that has a powerful sprayer with multiple spray modes, is good to install in the kitchen. A good spray reduces the washing time. Whether you want to clean dishes or wash vegetables, owning a powerful spray has its inherent advantages. A sprayer can be pulled into the sink easily. It should cover the whole or most part of the sink.
Material
The material of the tap decides its life. A faucet with low-quality material can rust easily. Plastic is not a good material for the faucet. It will break easily. You need a faucet that has high-quality material so it will last longer in the kitchen.
How To Find The Best Expensive Kitchen Faucet?
It really depends on several factors which we will discuss here.
First, check the margin between your faucet and backsplash. If you have a tight space to install the faucet, you need a faucet that has a front-only rotating handle or it would be great if you go with a touchless or touch-activated faucet. These faucets will eliminate the handle movement.
Think about who will use the faucet in the kitchen. If kids and elderly people are also using kitchen fixtures, you might want to opt for a motion sensor faucet. It will make it easy for them to use the fixture.
Also, consider the design of the faucet. You are going to invest your hard-earned money into the faucet so you don't want an ordinary-looking faucet. Explore all available options and pick a stylish one for you.
Check the quality of hoses and fittings. Check its warranty. Make sure the quality of the faucet is good and strong.
Check what type of installation the faucet needs. It is compatible with single-hole and three holes sinks. You make sure that the faucet fits into your sink.
4 Best Expensive Kitchen Faucets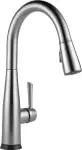 4 Cheap Alternatives to Expensive Kitchen Faucets
Why Are Expensive Faucets Worth It?
One thing we want to clarify is that not all expensive kitchen faucets are worth it. Some manufacturers have increased the price of the faucet but they are not giving any extra features, if you buy them, they are a total waste of money such as Grohe Essence, Delta Stryke, Moen Weymouth, etc.
But expensive faucets such as Delta Essa, Moen Align, and Kohler Simplice are worth buying. They make cleaning jobs pleasing. Their highly advanced features enhance the functionality of the faucet. You will be amazed by their performance. Cleaning is no more a boring work with an expensive faucet. It effortlessly makes cooking tasks much easier.
Final Words
If you are going to buy an expensive faucet, you would definitely think are expensive faucets worth it or not. If there is no budget issue and you need a feature-rich faucet that will make kitchen cleaning tasks easy, you should choose an expensive faucet. You need to choose an ideal faucet that serves all your cleaning and washing requirements in the kitchen.