How To Clean a Black Composite Sink?
A black composite sink gives a premium elegant look to the kitchen cooking area. Its beauty can attract anyone. The popularity of composite sinks is increasing day by day. This sink is less expensive and its maintenance is not difficult. In this article, we are showing how to clean a black composite sink in an easy way so its shine remains new forever.
Composite sinks are durable and available in different colors but black color is people's favorite. This sink enhances the décor of the kitchen but if you don't clean the sink regularly then over time stains build up on it and make it ugly.
Regular cleaning of the black composite sink will keep its shine new. Regular cleaning also prevents hard water build-up on it. In those kitchens where cooking work is more than the normal kitchen, just wiping the kitchen sink is not enough.
Abrasive cleaners can damage the body of the composite sink and take down its shine. Use natural products like soap, baking soda, etc to clean the black composite sink. Let's see how to clean stains from a black composite sink and make it new with natural products.
What To Use To Clean a Black Composite Sink?
Before starting to clean a black composite sink, collect these things so that during cleaning your time won't waste to find them.
Baking soda
Mild dish soap
White distilled vinegar
Kitchen sink cleaner
Soft cloth
Heavy-duty scrub brush
Vegetable oil
Water
Rubber gloves for safety
How To Clean a Black Composite Sink?
Black composite sink gets messy easily so you need to keep it clean regularly. Follow all the below steps so you can easily clean the composite sink.
Step 1 – Collect All Essentials
To clean a black composite sink, you need different things. Most of them you would find in your house. Vinegar, baking soda, water, and mineral oil are the main essentials you need for cleaning.
These all are organic things so they won't harm the sink finish and material. Baking soda and vinegar will remove stains from the sink. Mineral oil is needed after the cleaning process. It maintains sink shine.
Step 2 – Make the Sink Empty
Before starting the cleaning process, it is essential that the sink should be empty. Take out all utensils from the sink.
Step 3 – Clean Sink With Hot Water and Scrub Pad
Clean the sink with water so all food debris goes down the sink drain. You can use a scrub pad to remove stuck debris from the sink. After it, clean it with hot water and use a dry towel to soak all water from it.
Step 4 – Use Baking Soda
Baking soda is a natural cleaning agent so it won't harm the sink. On all stains of the sink sprinkles baking soda. For the black composite sink, baking soda is good.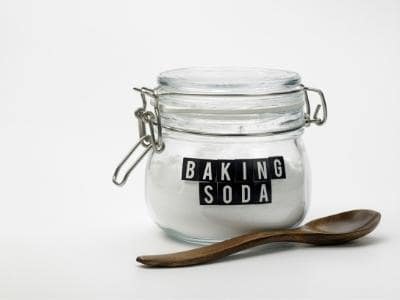 Step 5- Use Vinegar
Now it's time for the next step. Pour a small amount of vinegar into the baking soda. The reaction of baking soda and vinegar will make stains disappear. According to stains size, you can increase the vinegar quantity.
If the stain is not big then mix vinegar with water and then use. When vinegar and baking soda mix well then scrub this with a soft cloth or scrub pad. Slowly move your hand in the sink on the stains.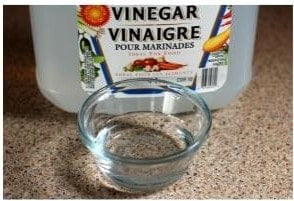 Step 6 – Clean Sink With Water
When you feel that you have done enough scrubbing then clean the sink with water.
Maybe possible that a few stains are still there. In this condition, repeat steps 3, 4, and 5 till you don't see a clean sink surface.
Step 7 – Apply Mineral Oil
Now it's time to do the last step. Clean the sink with a dry cloth and remove all water from it. Take mineral oil and apply it to the sink. Mineral oil brings back shine to the sink.
Check also –
What Should Not Use in Composite Sink?
There are a few things that you should avoid in the black composite sink. These things can damage the sink finish. Below is the list of things to avoid.
Abrasive cleaners and cloth
Don't leave the wet cloth on the sink
Oven cleaners
DIY chemicals
Neat bleach
Harsh chemicals
Cheap sponge scrubbing pad
Food or hair dyes
Ammonia
Don't leave food stains on to sink
Don't use plastic drainers
What Are The Benefits of Black Composite Sink?
The composite sink is not only good-looking but also it is durable. It gives a luxurious feel to the kitchen. The price of composite sinks might be high than other sinks but their presence in the kitchen gives a different vibe.
The composite sink is a mixture of acrylic resin and granite. 20% granite is used in the composite sink rest is acrylic resin. Mixtures of both materials create a wide range of color combinations and black is one of them.
The black composite sink is durable and its strong body stands up to heat. It has a wide thickness so it can easily bear the weight of heavy pans. Other benefits of the black composite sink are that its cleaning is not tough. Regular cleaning of sink with dry cloth remains it shiny as new.
Reasons for White Haze on Composite Sinks
The newly black composite granite sink color is vibrant. The new sink is always easy to clean. Over time on some black composite sinks, white hazes appear and destroy the look of the sink.
Hard Water Build-up
Hard water is one of the top reasons for white haze. Hard water contains different minerals. People use softeners to clean minerals from hard water but somehow few minerals remain inside the water and cause issues.
Calcium and lime are the main minerals in hard water that cause white haze in the kitchen sink. After washing work, water drops stay in the sink and don't evaporate immediately. In starting they look like water spots on the sink surface and slowly they convert into a white haze.
Abrasive Cleaners
People use cleaners to clean the sink but sometimes they don't check what chemicals are used in the cleaners. Some cleaners use abrasive chemicals that are not good for any sink.
Abrasive chemicals are not good for any sink. When you clean composite sinks with these cleaners, they leave behind surface blemishes. This blemish is visible when the surface is wet.
People use different cleaners. Sometimes they use mixed cleaning solutions for better results but they end up with a white haze on the sink. Use preventative care and maintenance of the sink so it shines as new.
Scrubbing Pads
We use scrubbing pads but it can also be the reason for the white spot on the black composite sink. All scrubbing pads are not harmful. From the abrasive pad, the sink surface may damage.
How To Clean a Black Granite Composite Sink?
By using household products, you can clean a black granite composite sink. Vinegar, baking soda, and water these things are needed to clean the sink. These are common households and find in most houses.
Mix vinegar with water and create a paste of it. Apply this paste to the stains of the sink and leave it for a few hours.
If vinegar is not available, you may use baking soda. Create a paste of baking soda and water and put it on the stains. After a few hours, clean it with fresh water. These DIY methods are cheap. These methods also won't make any damage to the sink.
How To Keep Black Composite Kitchen Sink Shine As New?
The best practice to keep the kitchen sink shiny as new is to clean it after every washing task. But this is not possible every time.
In our busy schedule, we don't get time to clean it every time. Instead of regular cleaning, you can do one thing. Once a week, take baking soda and hot water and create a paste of it and apply it all over the sink.
After a few hours, clean the sink properly with fresh water and clean it with a dry cloth. This step makes the sink new for a longer time.
How To Clean Soap Build-Up From a Black Composite Sink?
A black composite sink adds timeless beauty to the kitchen. Soap build-up on this sink is not a big deal. Mostly black sink faces soap build-up issues. Use these steps to clean soap buildup.
First, take a clean cloth. Cloth material should be soft so it won't make any scratches on the sink surface.
Dip the cloth in lukewarm water and take it out and squeeze it.
Put 2-3 drops of mild dishwashing liquid on the cloth.
Now clean the sink with this cloth. Scrub cloth on the sink with gentle pressure until you see a clean sink.
Pour fresh water into the sink and clean it. If a little bit of build-up is still there, scrub the cloth for some more time.
How To Remove Limescale From Black Sink?
To clean the limescale from the black sink, use baking soda. Sprinkle baking soda over the limescale.
Wait for 1 minute so the baking soda properly mixes with the stain.
Use a clean cloth to move it on the stain. Scrub the stain with a cloth for a few minutes.
When you feel the limescale begin to loosen, clean that area with clean water.
You can repeat the scrubbing process if the limescale is still there.
At last, use a clean and dry cloth to remove all water from the sink. Clean the sink properly so there are no water droplets remaining in the sink.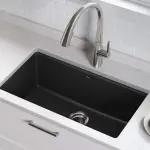 FAQ About How To Clean a Black Composite Sink
Are Black Composite Kitchen Sinks Hard To Keep Clean?
Black composite sinks are not hard to clean. With little cleaning every day they remain as new. If your area has hard water then it may be difficult for you to maintain the shine of the black sink as new.
What Is The Best Way To Clean a Composite Sink?
Use vinegar and baking soda to clean a composite sink. These cleaning agents are best.
Why Is My Black Composite Sink Turning White?
Chemicals in hard water are the main reason black composite sink turns white. Also, if you don't clean the sink after use then over time due to water droplets in the sink, it turns white.
Can You Clean Sink With White Vinegar?
Yes, you can use white vinegar to clean the sink. Use distilled vinegar for better results.
Conclusion
After reading the article, now you know how to clean a black composite sink in easy ways. Above mentioned steps are DIY and within the budget. All cleaning products which are shown in this article are available in any house. If you have any queries regarding the cleaning of the black sink, ask in the comment section.