Best Way To Chop Onions In a Food Processor
Chopping onion is one of the most hated tasks in the kitchen. Because onions can make you cry while chopping them. If you don't want to cry when you chop onion then you should use a food processor. Here is this guide, we will see what are the best way to chop onions in a food processor.
If you cut an onion properly then it becomes a tear-free task and you won't hate it again. We tried many techniques to chop onions but at last, we found that a food processor is the best appliance to chop onions.
People use a knife to chop onion but it is a time-consuming process and takes so much time and makes you cry also. People say to use a sharp knife to do this process fast but all people don't have a sharp knife in the kitchen.
A food processor is a good way to chop onions because it is an easy, fast, and safe way. Onions are the most common ingredients in most dishes. So, if you become a master to chop onions, you can save lots of cooking time.
How To Cut Onions To Chop In a Food Processor?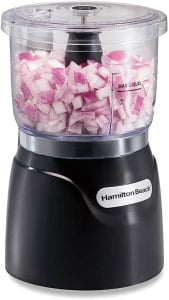 Learning how to cut onions to chop in a food processor is one of those essential cooking skills that make your cooking easy and save time.
Step 1 – Cut Ends of The Onion
For this process, you need a cutting board and a knife. You need to cut the stem end and root end of the onion.
For this place, the onion on the cutting board and hold it firmly with one hand. Keep the stem end pointing to the side. Use a knife to cut the stem end.
Now turn the end of the onion and cut the root end. On the stem end, the cut should be more than ½ inches. The root end cut is less than ½ inches.
Step 2 – Cut Onion in Half
Now both ends of the onion are flat so the onion won't roll around on the cutting board. To cut the onion in the half, you need to keep one flat side towards the cutting board. Other flat sides will be facing toward you.
When the onion stabilizes on the cutting board, take the knife and place the blade knife at the center of the flat end towards you.
Now put pressure on the knife so it moves downside. Carefully cut the onion in equal half.
Step 3 – Peel Off Onion
Before putting the onion into the food processor, you need to peel the skin of the onion. You have already cut the onion in half so it becomes easy to peel off its skin.
Best Way To Chop Onions In a Food Processor
People think that they can't use a budget food processor to chop onions. But it is not true, you can chop onions in a food processor easily. You need to use the right blade for it.
S blade is the right attachment to chop onions in a food processor. S blade has s letter shape and it is slightly curved so they easily cut onions.
First, cut the onion as we explained above in this article
Now put the onion into the feed chute of the processor
If the feed chute size is small then cut onions in the small size so they easily fit into the feed chute
Now use the pulse button of the food processor to cut onions
Press the pulse button a few times to chop onions in the food processor
If you continuously press the pulse button then onions will be diced instead of chopping
When you get the perfect shape on chop onion leave the pulse button
By following all the above steps, you can chop onions in the food processor perfectly. One thing you need to take care that presses the pulse button as you need. Overpressing the pulse button will mince or dice onions.
Check also – Best Cheap Food Processor
Tip – Practice pressing of pulse button slowly at first until you become more comfortable to decide that how many times you need to press it.
Can You Chop Green Onions In a Food Processor?
Here are steps that you need to follow to chop green onions in a food processor.
wash green onions in clean water
Cut root ends of green onions
Cut green onions into 2 pieces
Place the chopping blade into the food processor
Put the green onions into the food processor
Push the pulse button until the green onions are finely chopped
You should keep in mind that a food processor will chop green onions into small fine pieces which might not be useful for your recipe. To avoid this situation, you should press the pulse button for a few seconds and check pieces of green onions. When you get the right pieces, you should stop the food processor.
How Can You Chop Lots of Onions Fast?
Cut the root end and top of the onion
Peel the skin on the onion and discard it
From root end to top, slice the onion into thin wedges
Use a sharp knife to cut wedges of the onion
Hold the onion wedges in one hand and start chopping them into small pieces
To do chopping quickly, you can use a food processor
In the food processor, pulse the onion into small batches to finely chop it
Best Way To Chop Onions Without Crying
People hate cutting onions because it makes them cry when they cut them. There are some secret tricks that you can use to avoid tears while chopping or cutting onions.
When you cut onions fumes and irritants are released. Fumes and irritants are responsible for tears in the eyes. Here are a few tricks which you should use.
Always use fresh onion. Older onions release more fumes and irritants.
If you have cut onions in the half then keep the cut sides of the onions down on the cutting board.
Use a sharp knife to cut onions. Sharp knives quickly cut onions so they release low fumes and irritants. So, fewer tears you get.
Cut onion near an open window. If you don't have any windows then turn on the kitchen exhaust fan to suck onion fumes.
After chopping onions, always wash your hand before touching them to your eyes or face.
When you cut whole onions quickly take them away from your eyes and keep them in any utensils.
Chilled onions release fewer fumes and irritants. So, keep the onions in the fridge before chopping them.
Thinking To Buy Food Processor, Check This –
1000 watt powerful motor can process the toughest ingredients with ease.
Dedicated blades and discs for different cooking tasks.
4 Auto-iq preset programs make cooking easier.
Dishwasher safe parts for easy cleaning
Can You Chop Onions In Advance?
Yes, you can chop the onion in the advance. You can chop onions together for lunch and dinner. Chop onion can be kept inside the refrigerator or in a resealable plastic bag.
People chop onions in more quantities so they can use them for 2-3 days. But this is not a good idea. You should only chop onions for same-day use. If you use chop onions to use it for tomorrow or the next day then the onion will start releasing a smell.
Which Onions You Should Use For Cooking?
Before starting the cutting process of onions, you need to pick the right onion. Picking a good onion for cooking is not a difficult task.
Onions are available in different colors like red, yellow, and white. Yellow onions are a good choice for all-purpose cooking. Yellow onions add a tasty flavor to all dishes.
Also, you need to look quality of the onion. Onion skin should be dry and tight. The onion should be unbruised and unblemished. If you are getting strong onion sent then this onion is not good for salad. It will make the salad spicy.
Dice Onion vs Mince Onion vs Chop Onion
When you put the onion into a food processor and turn on its button then you can chop, dice, or mince an onion. All three are different forms of an onion. It depends on the recipe and what you need. Here is the difference between these three.
| Diced Onion | Minced Onion | Chopped Onion |
| --- | --- | --- |
| Diced onions are small in the size. Its size is almost equal to 1/4 -inch. This type of onion is good to mix in all types of dishes. Diced onions are not so small so when you eat any dish, you can taste onions inside it. They are not large. So, they don't taste bad in the mouth. | If you rotate diced onions for more time in a food processor it becomes minced onions. This type of onion is used in those recipes which only need onion flavor but when you don't want to eat onions. Minced onions are very small in the size. | When we cut onions generally, they are referred to as chopped onions. There is no specific size for chopped onions. Chop onions are big in size and if you cut them more they count as diced or minced onions. You can decide the size of the onions piece as your recipe needs. For soup and stews, chefs use chopped onions because it releases a good taste in the soup. |
Check also –
How To Store Cut Onions Fresh?
If you don't cut onions, you can store them for a month. Store onions in a cool and dark place so they remain fresh.
When you cut onions, this approach won't work and you need to store them differently. A refrigerator is the best place to keep onions after cutting. Before placing onions into the refrigerator, you need to keep them in an airtight container so their smell won't mix with other items in the refrigerator.
You have to cut an onion in half part and you need only half for cooking then wrap the remaining half part into plastic and keep it in the refrigerator.
Frequently Asked Questions
How Long Does It Take To Chop An Onion With A Knife?
It may take from 5 minutes to 15 minutes to chop an onion with a knife. It depends on your skill level and the size of the onion. If you are using a sharp knife, you can easily cut the onion. If you are doing it for the first time, you may take more time than usual. To cut the onion quickly use a sharp and larger knife.
Can You Chop Onions In A Blender?
Yes, you can chop onions in a blender but it is not recommended to use a blender to chop onions. In a blender, it will be difficult to achieve a consistent shape of chop onions. You will get a mushy texture of the onion.
Conclusion
In this guide, we have shown the best way to chop onions in a food processor. It is possible to chop onions in a food processor. You need to use the S blade with the pulse setting of the processor. All onion pieces are not uniform but they will make your eyes safe from the tears. Also, no risk of cutting hands or fingers while chopping onions.